Muscle Suit



Technical Description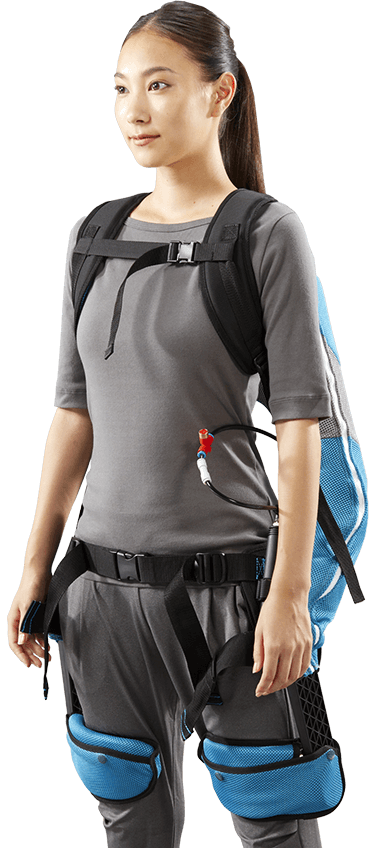 What is the 'Muscle Suit'?
The Muscle Suit is an innovative Japanese-made exoskeleton designed to help workers become more productive and improve their working conditions. It is also a great way for people with mobility difficulties to enjoy freedom in their daily lives and activities such as gardening or DIY.
The Muscle Suit is designed to be used by men and women of all ages, not least because it weighs only 3.8 kg and has an intuitive and simple donning system.


Terzago Robotics is the exclusive Muscle Suit reseller in Italy
Contact us now for more information
The Power of Air
The exoskeleton provides support to the operator's muscles using air pressure, it adapts to each person's movements and, above all, does not require electricity. This makes it suitable for outdoor, water contact, such as the agricultural or the food industries.

In addition, the absence of power supply allows the Muscle Suit to be used continuously for several hours after filling. If you feel that the assist power has weakened, simply use the pump to fill it with air.


Muscle Suit is able to assist the wearer's movements with up to 25.5 kgf of auxiliary force, supporting the back and reducing not only the workload but also the risk of injury, with a positive effect on working conditions.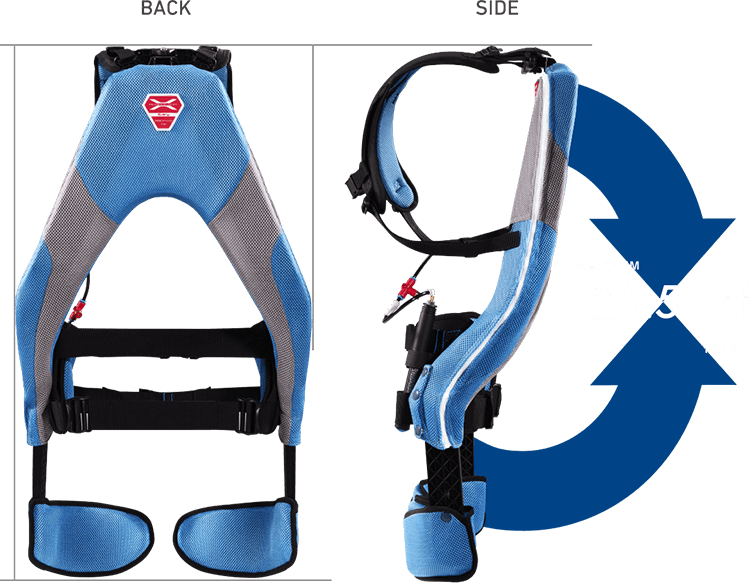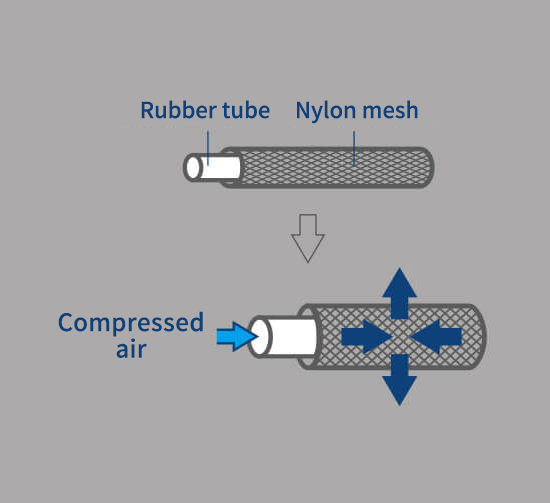 An Artificial Muscle
The Muscle Suit uses a McKibben-type artificial muscle as its driving force. The rubber tube is encased in a mesh made from polyester monofilament and both ends are secured with metal in this simple configuration.
The Muscle Suit is made up of a back frame and thigh frame, and a rotation axis that connects the two. The upper end of the artificial muscle is affixed to the upper portion of the back frame, and the connected wire is affixed to the rotation axis at the lower end. With the compression of the artificial muscle, the wire is pulled and the back frame rotates around the rotation axis. As the thigh frame, which is affixed to the rotation axis, rotates in the opposite direction, the upper body is held upright using the thighs as the fulcrum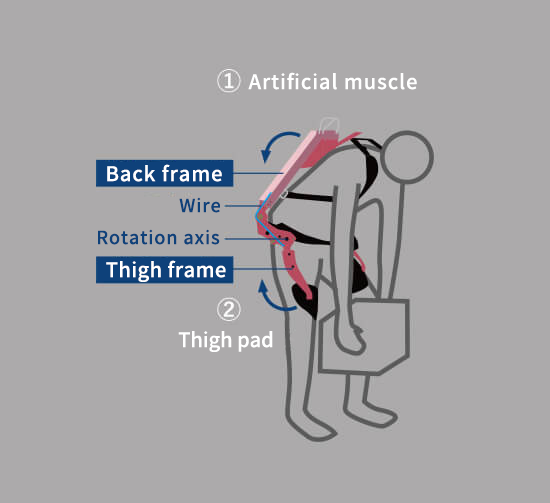 10 steps in 10 seconds
Wearing the Muscle Suite is very easy, all it takes is 10 small steps and 10 seconds
Use the

shoulder straps

and put the Muscle Suit on like a backpack.
Pull the

shoulder belt adjusters

and adjust the Muscle Suit so that the waist belt is at waist level
After fastening the waist belt, pull

the left and right adjusters

to tighten the belt firmly
Adjust the

length

of the belt
Bring the

thigh pads

forward
Pump

the air pump

30-45 times and fill the Muscle Suit with air
Adjust
the force of the assist
with the volume of air
Adjust

the space behind you
Leave

enough room for a fist

to fit in the space between your back and the Muscle Suit
Fasten

the left and right chest adjusters
A real help in many different working environments
Muscle Suit is often used in all intensive labour, such as
Nursing
Agriculture
Manufacturing
Construction
Site work